Seeing is believing! Software designed with the future in mind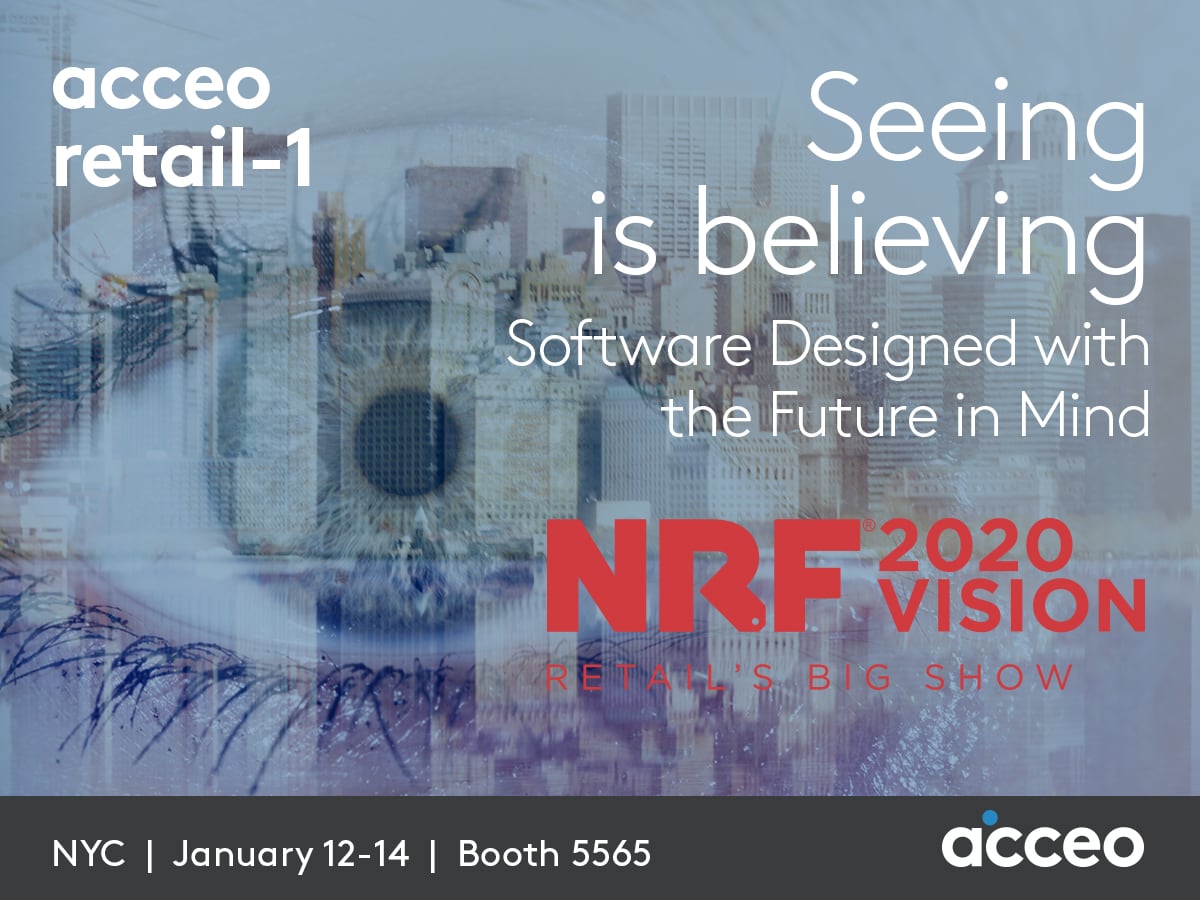 Join ACCEO retail solutions at one of the most exciting and anticipated retail technology events of the year – NRF2020!
Once again, ACCEO will be exhibiting our retail software solutions at NRF2020 Vision, taking place in New York at the Jacob Javits Center on January 12-14th, 2020, and we are excited to meet you!
Bring your future into focus. Join us in booth 5565 and learn how the ACCEO Retail-1 software is helping leading retailer's respond to the complexity of today's retail transformation!
With over 35 years of industry experience, we help thousands of retailers manage their businesses more successfully every day by leveraging a customizable unified commerce software that has been designed and developed to handle every aspect of modern retail operations in-store and online.
Why should you visit ACCEO? There are so many reasons, but we've managed to narrow it down to our TOP FIVE :).
1. Insight & Expertise
We know retail, and we understand the complexities of today's industry. We innovate and develop software that responds to significant industry shifts and trends driven by new technology and consumer behaviour. We've been helping retailers successfully manage their business with our industry-leading retail solutions since 1983.
2. To Better your Business
Learn how ACCEO Retail-1 can transform your retail business. Gain software insight and discover how our complete Omnichannel software solution can drive your end-to-end business operations to success.
3. A Fresh Perspective
Innovation and product development are what drive our software forward. We are continuously improving and developing our product to exceed the industry norm and the expectations of our clients. Get a fresh perspective on retail software!
4. Sustainability Intelligence – Software That Cares
Discover how Retail-1 helps retailer's in its mission to become a more sustainable business. Join us at NRF's Exhibitor Big Ideas Session as we present alongside our client Bestseller – "How to build and foster stronger consumer relationships through responsible and conscious retailing."
5. Visionary Talent
With over 100 years of combined retail experience, our knowledgable retail software experts will be on-hand to educate, inspire, and answer all of your questions!
Request a meeting with one of our experts and discover for yourself why seeing is believing!
Discover what makes us different.
Book your personalized demo today and find out why leading retailers are finding success with Retail-1.
Call us at 1-888-474-2001 or fill out the form to schedule a demo with our experts.