ACCEO Retail-1 offers retailers infinite possibilities
Manage and control all aspects of your omnichannel retail business with a single software system that provides everything you need to operate your retail enterprise successfully.

Easy store operations management and POS
Run your point of sale and store operations with a one-source enterprise solution that can manage everything from any channel sales, inventory to CRM, and employee performance.
Discover ACCEO Retail-1 Store Operations

Omnichannel Retailing
A robust retail software suite to manage your entire business from front end to back. Deliver dynamic and consistent omnichannel experiences.
Discover ACCEO Retail-1 Head-Office Operations

Business Intelligence
Modern business intelligence tools that allow you to deploy profitable strategies around products, services, and brand experiences.
Discover ACCEO Retail-1 Business Intelligence
Why you should consider ACCEO Retail-1
We've been helping retailers successfully manage their business with industry-leading solutions since 1983.
What makes us different?

Focused on Growth
Our retail management solution is custom-designed around the needs of multi-channel, multi-store specialty retailers across North America. We focus on improving our product development and evolution based on industry trends and those dictated by our existing clients to offer an all-encompassing comprehensive retail software that supports the successful growth of retailers.

A true Omnichannel Solution
Our centralized solution with modern infrastructure has been designed and developed for your digital transformation. Synchronize your physical and digital selling environments and meet customer demands and expectations by seamlessly providing them with what they want, when they want and in their channel of choice.

Committed to your Success
Supporting and executing the long-term vision of our clients is our top priority. We offer a complete range of superior services that focuses on your businesses well-being and success. From professional services to client care and support, we are with you every step of the way!

Flexibility and Choice
Committed to offering best-of-breed software solutions, we integrate with various third party software platforms providing retailers with added functionality and increased value. Our flexibility and expertise ensure a smooth integration to the partner of your choice.

Hardware and Hosting
We know every business has unique requirements, which is why we let you choose your hardware and store your data information the way you want.
Download Hardware and Hosting brochure
Why they chose Retail-1
Trusted partner of chain retailers since 1983

«The ACCEO Retail-1 SaaS model is fantastic! All necessary infrastructure is in place. You are assured of uptime as well as the most current, newest, and hottest retail software. It's a winwin strategy.
Michael O'Dell, Vice President, Running Room Canada Inc.»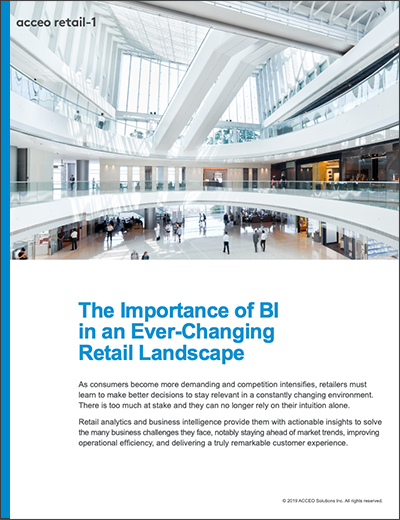 As consumers become more demanding and competition intensifies, retailers must learn to make better decisions to stay relevant in a constantly changing environment. This whitepaper focuses on four key areas; The Retail Landscape Is Evolving Quickly Making Data Valuable Through BI and Data Analytics Unlocking the power of BI for Retailers What It Means to […]
From Our Blog
With predictions pointing to Cyber Monday online sale revenues in excess of $ 9.4 billion this holiday season, and BOPIS orders set to increase by 39% over 2018 (Source: Adobe), today's smart retailer is looking for ways to make the most of their Cyber Monday events.
With sales growing significantly year over year, Black Friday has become the make or break event that retailers are counting on this key date to make or break their annual budgets. While the launch of the holiday season is always exciting, preparing your retail business for multichannel success can also be a source of stress for retailers.
One of the most critical and essential topics today is conscious consumerism and sustainability. With the rising trend of sustainability quickly becoming tomorrow's expectation, retailers are under pressure to become "purpose-driven" brands.
Discover what makes us different.
Book your personalized demo today and find out why leading retailers are finding success with ACCEO Retail-1.
Call us at 1-888-474-2001 or fill out the form to schedule a demo with our experts.