Are you tired of eating up IT resources due to unexpected system downtime, server issues and capacity, and outdated infrastructure? Are you looking to reduce your retail IT budget?
Then it's time to consider ACCEO Solutions Hosting Services. ACCEO Solutions provides a reliable alternative to having to host and maintain your own servers and IT departments. We partner with Cologix to offer our clients a superior, secure hosting data center that is dedicated to the well-being of your Retail-1 software foundation.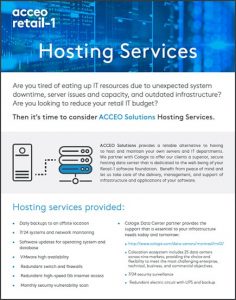 Download Hosting Services
Tell us a little bit about you and we'll send you our
«Hosting Services».